Whether you're looking for priceless antiquities or you just want to stock up on some inexpensive items for yourself or the house, the several flea markets scattered around Connecticut will have just what you need.
Flea markets are a great place to find unique goods, such as a lovely vase for your side table or a unique teapot to serve your guests with. Vendors come from all over the East Coast to sell or trade their items at Connecticut's famous markets. The one-of-a-kind finds aren't the only thing there; clothing, jewelry, fresh fruits and vegetables, and baked goods can be enjoyed by all who attend.
1.Bethlehem Indoor Flea Market
The Bethlehem Indoor Flea Market is open every Friday from noon to 5:00 p.m. and on the weekend from 9:00 a.m. to 5:00 p.m. Visitors in Bethlehem can head over there for a wide variety of new and gently used treasures for the entire family including, but not limited to, furniture, household items and decor, artwork, lighting, and much more. The indoor site is huge, temperature controlled, clean, and organized for you to enjoy your shopping experience. Other amenities include an ATM on site, acceptance of PayPal, a pet-friendly environment, and delivery of large items if necessary.
37 Thomson Rd, Bethlehem, CT 06751, Phone: 203-948-6066
2.Cobalt Route 66 Flea Market Connecticut
With many new vendors on the floor, the Cobalt Route 66 Flea Market in Connecticut is a fun-filled way to spend the day. Everyone in the family will enjoy browsing the thousands of items such as household items, toys, jewelry, and a range of other unique and fun things that are not commonly found anywhere else. The Cobalt Flea Market is rather renowned for its varied offering of antique furniture, and visitors will surely find a hidden gem during their visit there. There is a large parking lot for visitors to use, and the market is indoors but extends to the outdoors during the warmer months. Opening times are on Friday, Saturday, and Sunday from 10:00 a.m. onwards.
363 W High St, Cobalt, CT 06414, Phone: 860-529-0844
3.College Mart Flea Market
College Mart Flea Market is one of the largest indoor/ outdoor markets of its kind in all of Connecticut. There are two floors with over 150 vendors and 900 tables for people to browse through. The collection of new and used items offered include many everyday objects that could save you lots of money; there row after row of tools, toys, games, movies, clothing, cosmetics, and accessories, and you will even find food vendors. Collectors can scan the market for antiques, coins, stamps, and other collectibles that are often hard to come by. The flea market is open every Sunday, rain or shine, from 9:00 a.m. to 4:00 p.m.
2 Wedgewood Dr, Jewett City, CT 06351, Phone: 860-376-3935
4.Elephant's Trunk Flea Market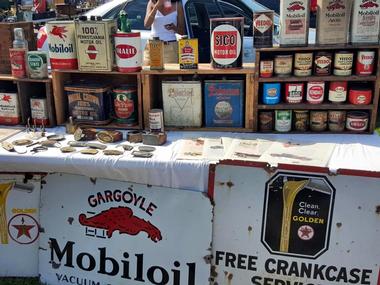 The Elephant's Trunk Flea Market invites you to experience a New England tradition unlike any other. The market has been active since 1976 and has attracted throngs of antique collectors, treasure hunters, upcyclers, deal seekers, and foodies. Vendors come from all over the East Coast to set up stalls filled with a unique mix of items; in fact, buyers start arriving as early as 4:45 a.m. so that they can be the first ones to view the treasures and their bargain prices before anyone else sees them. Admission starts at $40 for those who arrive before 5:45 a.m., $20 for those who arrive before 7:00 a.m., and two dollars for everyone who comes in after. The market is open every Sunday till 3:00 p.m. and the season extends from late March to mid-December.
490 Danbury Rd, New Milford, CT 06776, Phone: 860-355-1448
5.Flea Market at the Crossing
Open every weekend from 9:00 a.m. to 4:00 p.m., the Flea Market at the Crossing gives people the opportunity to buy, sell, and trade a variety of merchandise. There are two floors to explore with over 10,000 square feet of space and numerous booths. The market is extremely popular with locals and visitors and is a great place for people no matter if they want to collect antiques or just stock up on some basic necessities. The flea market is also home to H&B Woodworking, which is a renowned custom cabinet, furniture building, and restoration shop that can handle even the most unique woodworking needs. Admission is free all day long and those who are there early can also enjoy a free cup of coffee.
105 E Main St, Plainville, CT 06062, Phone: 860-793-6991
6.Mansfield Marketplace
Mansfield Marketplace is one of the largest flea markets in eastern Connecticut. The market is open every Sunday from 8:00 a.m. to 2:00 p.m., rain or shine. The indoor and outdoor space includes a 15,000-square-foot building filled with vendors, additional stalls on the outer lawn, $2.00 outdoor parking, wheelchair-accessible bathrooms, and a brand-new snack bar where you can re-energize with some local favorites. Vendors come from far and wide to sell many goods, and you'll be sure to find everything you need, and some things you just want, during your visit.
228 Stafford Rd, Mansfield Center, CT 06250, Phone: 860-423-4441
7.Maplewood Indoor Flea Market
Open all year long, the Maplewood Indoor Flea Market is a favored place for families to spend the day browsing goods, enjoying foods, and having a chat with friendly vendors about their collection. The market is open from 9:00 a.m. to 4:00 p.m. on Saturdays and Sundays and offers free admission as well as parking. The indoor flea market has many items, but the most popular is the extensive collection of antique goods and priceless art that can be found there. Age-old collectibles are another good reason to visit Maplewood and range from baseball cards to old coins.
458 Danbury Rd, New Milford, CT 06776, Phone: 860-350-0454
8.Moosup Flea Market
The Moosup Flea Market is a fun and friendly way to spend the day and is a great place to people watch or find someone with whom to have some really interesting conversations. The inventory is constantly changing, and though new vendors are always welcome, many of them have been there for years. The constantly changing inventory will have something just right for even the most particular shopper. You'll be able to find seasonal items, jewelry, books, albums, electronics, furniture, plants, and much more – and all the vendors there love to barter, so come ready to reasonably haggle prices. Fresh coffee, tea, and hot cocoa are available for free throughout the day.
23 Village Center Cir, Moosup, CT 06354, Phone: 860-917-8532
9.New Haven Flea Market
The New Haven Flea Market is the place to go if you're looking for reasonably priced everyday items, rare finds that you haven't seen elsewhere, and great bargains on items you know and want. Whether you're looking to grow your book collection with a stack of inexpensive books or are on the lookout for a rare piece of furniture to add to your home, one of the best places to search through is the New Haven Flea Market. No two days are alike since the vendor inventory is constantly changing, so every time you visit the market it's a brand-new experience. Additionally, you will find fresh fruits and vegetables as well as many food trucks with delicious offerings throughout the day.
500 Ella T Grasso Blvd, New Haven, CT 06519, Phone: 203-772-1447
10.Redwood Country Flea Market
Redwood Country is one of New England's oldest flea markets, going back to over 40 years. The market is open every Friday, Saturday, and Sunday from 6:00 a.m. to 3:00 p.m. Admission to the market is free all day, every day, as is parking. Visitors can browse aisle after aisle filled with new and used household items, tools, crafts, clothes, books, DVDs, games, jewelry, coins, collectibles, and antiques. You can also leave each visit with bags of groceries, fresh fruits and vegetables, and baked concoctions that alone are worth the drive there.
170 S Turnpike Rd, Wallingford, CT 06492, Phone: 203-269-3500
11.River Road Flea Market
One of the newer flea markets in the area, the River Road Flea Market has many eclectic and unique items in its space in downtown Stafford Springs. The market is open seasonally and on weekends from 10:00 a.m. to 4:00 p.m. There is plenty of space in the designated parking lot as well as the adjacent streets. The market is split by category and has marked spaces for vintage items, unique instruments, and other collectibles you may be on the lookout for. Their collection of vintage comics is one that shouldn't be missed if that sort of thing interests you.
2 River Rd, Stafford Springs, CT 06076, Phone: 860-796-1421
12.Stafford Auction House
The Stafford Auction House is an outdoor flea market to which people come from all over to buy, sell, and trade unique goods. Their collection of antique items is constantly evolving and has ranged from pieces of art to handmade furniture and carved decor. Outdoor patio furniture, buggy seat benches, and an upcycled country coffee table are just a few of the items that have been sold there. In addition to household items, visitors there will also be able to purchase fresh fruits, vegetables, and much more. Those who are unable to go to the Stafford Auction House directly can find their booths at many of the other flea markets in the area.
2 Pine St., East Windsor, CT 06088, Phone: 860-847-1059
13.The Village Flea Market
The Village Flea Market is an indoor/outdoor flea market that allows for one-stop shopping for all your wants and needs. The market has been open since 2013 and is known for having new and exciting things each time you visit. You never know what treasures you'll find there; visitors have left with clothes, jewelry, pocketbooks, and household goods, and the market even has an extensive collection of wigs for great prices. The staff is extra friendly, and the vendors offer a great selection of items for great prices; don't let that stop you from bargaining, though, because a friendly haggle is always welcome.
1335 E Main St., Waterbury, CT 06705, Phone: 203-528-4479
14.The Woodbury Flea Market
Be prepared to find hidden treasures and renowned antiques at the Woodbury Flea Market, which has been in operation for over 40 years. The market is managed by Gus and Ann Kaloidis, who also run the restaurant located there. There is ample parking for patrons, including dedicated handicap accessible parking. The area surrounding the market is known for its old houses and antique shops, which attract people from all over. The Woodbury Flea Market is open from 7:30 a.m. to 2:30 p.m. every Saturday and Sunday. Admission and parking are free to all who attend.
44 Sherman Hill Rd, Woodbury, CT 06798, Phone: 203-263-6217
15.Wright's Barn & Flea Market
Wright's Barn is a 10,000-square-foot multi-vendor antiques and collectables market. It is open every Saturday and Sunday, except holidays, from 10:00 a.m. to 4:30 p.m. all year long. The historical space was once a dairy barn, and then a teenage dance club, before it was converted into a flea market in 1980. There are 40 spaces dedicated to vendors, some of whom have been with Wright's Flea Market for over 20 years and some of whom come to sell every so often. There are always new items such as tools, furniture, jewelry, books, and delicate china. Buyers will also see Victorian-style artwork and various antiquities and collectibles while there.
99 Wright Rd, Torrington, CT 06790, Phone: 860-482-0095
Subscribe to The Connecticut Roundup
We solemnly swear we won't clog your inbox!
Add a Business Listing
Share on The Connecticut Roundup
Share with us and our readers your news, events, suggestions, ideas, listings or just about anything and everything Connecticut! Please fill out the form below or email us to include photos. roundupteam@connecticutroundup.com